2023
July 20th > August 6th
Retour
Marciac 2021 : Why Marciac ?
There are all sorts of reasons for going to Marciac - it's green, hilly, human in size, festive (as opposed to a continual party, which is the arduous obligation of the summer idle!), the people are nice - you can stay in their homes - and, of course, you return home with a relic which it doesn't take long to secularise : the aged bottle of Armagnac. But you might also go for the jazz.
Life is much sweeter and nicer in the summer… And so will it be in Marciac, more than anywhere else when, from 24th July to 4th August, the greatest jazz musicians will drop their suitcases full of swing and dreams at the village with two steeples. Anything which looks (from afar or in close-up) like talent stops at Marciac. And stays there. I can still remember this sandalled festival-goer, in loose clothing, (33°C / 91°F in the shade, it must be said!) absorbed by a waffle, which he held up to his mouth with the same gesture he had used two days before, when, trumpet to lips, he had faced the big top with its audience he had already won over. And what was this gentleman doing? He was seated, quietly, on the little grassy slope backstage (even backstage is in the open air in Marciac), listening to the concert with feigned inattention. Wynton Marsalis (for it was he), the heavenly jazzman, regular host (and guest) of Jazz in Marciac, caught in the act of feeling hungry - almost like you or me.

Jazz in Marciac with :  Aymée Nuviola & Gonzalo Rubalcaba, Youn Sun Nah & Ulf Wakenius, Richard Bona & Alfredo Rodriguez, Emile Parisien & Vincent Peirani, Brad Mehldau, Zucchero, Erik Truffaz, Rolando Luna... and many others… Concerts by day and by night : jazz, blues, Latin American music… Jazz legends, young talents revealed… A unique atmosphere... What beautiful memories are made of. "Optimism", Wynton Marsalis, the famous trumpet-player, likes to say, when you ask him to define the spirit of Marciac. It is true, it is difficult to leave the festival without a smile on your face.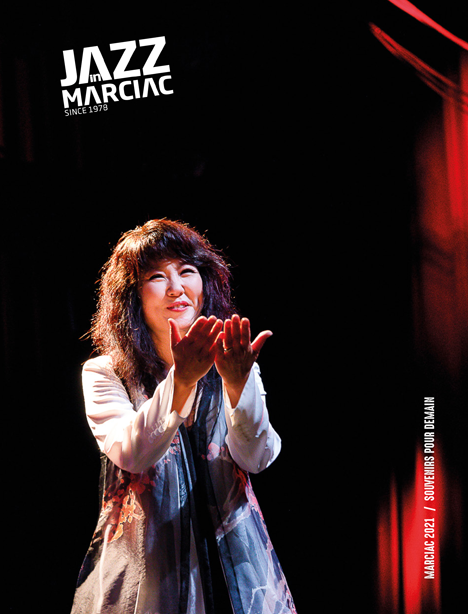 © Arkade, Marciac.